Not only our clients, but many others love our work too! In the first two years of business, AliveNow has received the following awards, recognition and accolades. And two set's of people made this happen - The amazing team at AliveNow and our awesome clients who believed in us!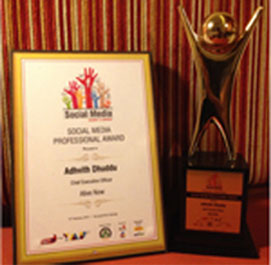 Adhvith Dhuddu, CEO of AliveNow wins Social Media Professional Award for 2013
Adhvith Dhuddu, founder and CEO of award winning social media agency AliveNow has been conferred with the Social Media Professional Award for 2013 during the Social Media Summit and Awards at the Global Youth Marketing Forum held in Mumbai. The Global Youth Marketing Forum 2013 is the largest rendezvous of youth experts, marketing professionals, cool hunters and brand specialists who offer insights on various branding, marketing and advertising topics. GYMF is powered by the CMO Council and CMO Asia. The forum was held at The Taj Lands End in Mumbai on 14th February, 2013 with attendees from all over the country. The award ceremony commenced at 11.00 AM and lasted 45 minutes after which there were various panel discussions and presentations about social media related topics through the day.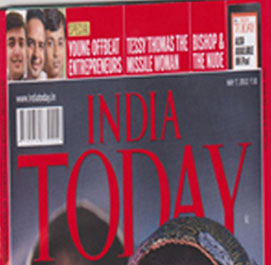 India Today (Cover) top 20 young emerging entrepreneurs in India for 2012
AliveNow and Adhvith Dhuddu were picked by India Today magazine, the widest circulated weekly magazine in India as one of India's top 20 young and emerging entrepreneurs in 2012. AliveNow CEO, Adhvith, at 25, is the youngest of the top 20 entrepreneurs in India Today's list of Young Entrepreneurs in India. This prestigious recognition comes at a time when AliveNow is growing faster than ever adding new clients at home and abroad.
Read more about this on our blog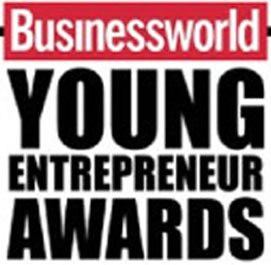 Businessworld Magazine's 25 hottest Young Startup's in India for 2011
Businessworld Magazine has picked AliveNow and Adhvith Dhuddu as one of Businessworld's 25 Hottest Young Entrepreneurs for 2011 in India. A screening panel consisting of investors from the country's leading venture capitalist firms helped shortlist the 25 companies. From entries across India, top 25 companies were chosen in two categories. Category A was businesses that are 2-5 years old, and 15 businesses were chosen here and Category B was businesses less than 2 years old and 10 businesses were chosen here. AliveNow was selected for Category B. Read the article on Businessworld:
The Brightest New Stars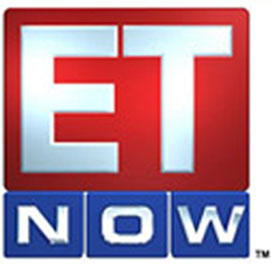 ET Now Pioneering Spirit
AliveNow was picked to participate in ET Now's famous Pioneering Spirit Program for the 2011 season. With over 650 applications, about 30 odd companies were shortlisted to talk about their product/service on the show with industry big wigs. Adhvith Dhuddu, our CEO shared this thoughts about AliveNow on the show; watch the
video here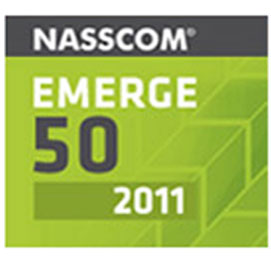 NASSCOM EMERGE 50 - League of 10
NASSCOM has announced the finalists for the NASSCOM EMERGE 50 Awards for 2011 and AliveNow made the list under the StartUp category. We thought that was a great achievement but were in for a surprise because we then made it to the elite NASSCOM EMERGE 50 League of 10 for 2011. It was a proud moment for the AliveNow team as we continue to grow at a fantastic rate! We thank NASSCOM for this award and are humbled by the recognition. It only reinforced our belief in what we do! Read more here: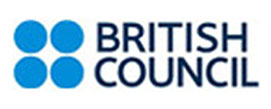 British Council Young Creative Entrepreneurs
The finalists for the prestigious Young Creative Entrepreneur Awards by the British Council were announced earlier this week, and we are happy to share that AliveNow was amongst the finalists in the Interactive sector for the year 2011. The amazing work that AliveNow has done for many brands in the social space in India and abroad has received another recognition, thanks to the British Council. Read more about this on the
British Council